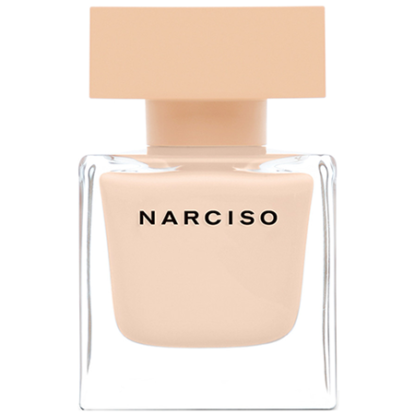 It's no secret that I am a huge fan of powdery fragrances, and Poudree performs exactly how I would imagine a feminine pink musky perfume to smell like. This opens up with a powerfully intoxicating blend of jasmine and roses; it's powdery and clean without being too dusty or "mature".
At its heart Poudree smells a little like Victorian deodorant, the woody notes elevate the roses so that it isn't overwhelmingly sweet. This is a much more feminine sister to Narciso Rodriguez's Narciso, whereas Narciso is more of the down to earth child…Poudree is sassier, flirtier, and is coming to terms with her own sexuality.
This is still a very tame fragrance in my opinion, it isn't sexy – but a little more timid, almost virginal if that is even possible to describe such a scent. The vetiver and orange blossom gives this perfume an almost "spicy incense" note but it's very faint; the patchouli isn't overwhelming here but rather plays its part subtly in the background.
Poudree is more of a "skin" scent, the sillage is rather poor but longevity is pretty good. I feel like it's better as a "before bed time" fragrance, when you're cuddling with your significant other and they can smell this on your body. It's clean and musky but in a natural way, this doesn't feel synthetic at all.
The dry down is a bit of a disappointment, there is a distinct note of something resembling play-doh which sometimes happen when the rose and musk doesn't blend very nicely with my body chemistry. Of course this isn't something that can be helped as everybody's skin is different.
Overall another great multifaceted concoction from the house of Narciso Rodriguez, if you love powdery fragrances you should definitely give this a try.
---
Top Notes
Rose /Jasmine /Orange Blossom

Middle Notes
Musk
Base Notes
Vetiver /Cedar /Coumarin/ Patchouli