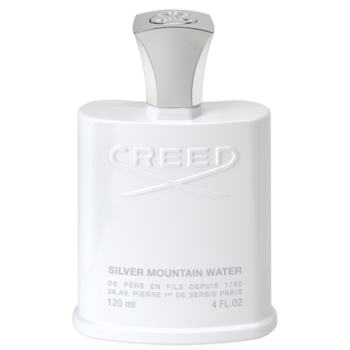 It's been a while since I've reviewed a Creed perfume, today seems like the perfect day for Silver Mountain Water. This is the first metallic fragrance that has generated a positive reaction from me. It's cold and minty fresh, like a highland stream; I feel like I am lying next to river surrounded by white mountains, sipping iced tea with my face to the sky.  This is unisex for strong independent women and the fashion conscious men.
Progression is simple, starts off as a strong but invigorating green tea combined with black currant; middle notes emerge as a very refined white musk. The citrus base is neither bitter nor tart, in fact this is a balanced petitgrain and orange; it isn't screechy, just subtle enough produce a clean herbal accord. Creed has a knack for tea scents; I have yet to find a company that can do herbal notes as well as the ones produced by this company.
SMW does not smell synthetic; it's wholesome, invigorating, cold, and wonderfully aromatic. It's neither feminine nor masculine; can be worn for all seasons and versatile enough for any occasion. The heart of this fragrance is white waters and enchanted woods. Notes of petitgrain and sandalwood counters the slight bitterness of galbanum, resulting in a dry down that is reminiscent of oud and green grass.
Silver Mountain Water is undoubtedly one of my favorites of the Creed line, any fragrance that can rustle the imagination is a win for me. SMW feels like a memoir of the snowcapped mountains, a scent of complete contentment free from responsibilities and the boundaries of life.
---
Top Notes
Middle Notes
Base Notes