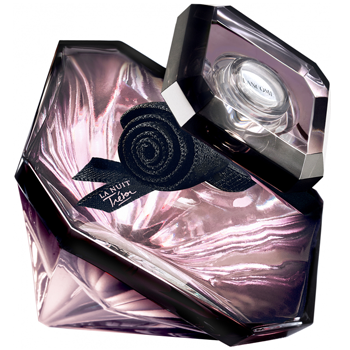 If you were to ask me which fragrance in my collection garners the most attention, it would be without a doubt: La Nuit Tresor. I've received compliments from everyone including my landlord, my husband, random strangers, and even the plumber! The opening is my favorite stage of La Nuit – multifaceted, distinctive and "expensive" smelling. It's gourmand without smelling like a candy bomb.
Immediate impressions were a delicious blend of praline, chocolate, orchids, caramel and patchouli followed by a blast of litchi. There are definite shades of incense and coffee upon a bed of vanilla and licorice. I can also smell fresh strawberries melding within layers of sweet and delicious litchi, this is very sweet but thanks to the balance of incense and papyrus…it never becomes cloying on my skin. La Nuit is incredibly balanced in smoke and sweetness, I can never get bored of it.
The dry down is akin to sun drenched berries and night orchids wrapped in vanilla and chocolate. It's incredibly elegant and addicting, I find myself saving this fragrance for very special occasions due to an irrational fear of someday becoming bored of it.
La Nuit Tresor was an unexpected love at first sniff but I must say the bottle accurately represents the nature of this perfume very well, it smells feminine, purple, mysterious and bewitching. One of my best purchases; here's hoping that it will never be discontinued or reformulated.
---
Longevity: 8/10  Sillage: 9/10
Top Notes
Middle Notes
Base Notes