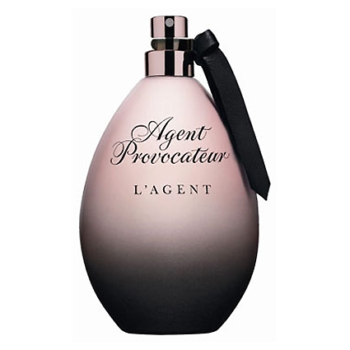 L'Agent  smells like male body odor and I love it!
You will either hate this fragrance or you will adore it, thankfully I belong in the latter group. This is very smoke and incense heavy, but it's not the sweet aromatic incense you're used to, this is a dry and smoldering smoke. L'Agent is nothing like the original Provocateurs, it's bordering on harsh and masculine. Frankly it reminds me of Natori Natori (sans plum) and a weaker Opium mixed together.
You'll be interested in knowing that this is not a sweet perfume; although there are mild floral accents, the primary players are incense, myrrh, sandalwood, and patchouli. Roses and tuberose are apparent but only through a veil of dark smoke and leather—amber adds a warm glow to what would have been a cold and haunting fragrance.
L'Agent smells like a bonfire on the beach; I wouldn't categorize this as a girly scent, it smells gothic and bewitching. I love the way it transforms subtly on my skin, going from rich and smoky to dark and boozy. The dry down is strangely intoxicating, like flowers on a lake of petrol; it's a little skanky reminiscent of male body odor.
I don't know what Agent Provocateur puts into their perfumes but every one of their creations has been a love for me. L'Agent is undoubtedly my favorite of its flankers, I can't get over how uniquely sadistic it smells, almost like a film noir. This won't be considered a sex bomb by most people, but if flowers were evil little things with a penchant for torture and fatalism…it would moonlight as L'Agent.
---
Top Notes
Middle Notes
Base Notes