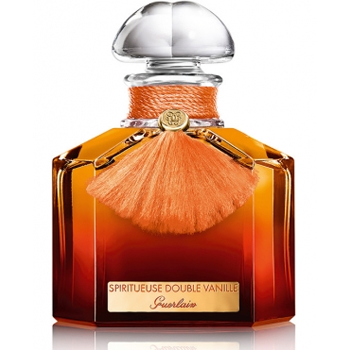 Imagine Vito Corleone in the opening scene of The Godfather where he is confronted by Amerigo Bonasera about a particular murder-for-hire of two young men. This scene takes place inside a dark and smoky room with just enough light to showcase the tension that exists between Vito and the undertaker, if that room had a smell it would be Spritueuse Double Vanille.
SDV is the upper crust of the perfume world and its price/exclusivity pretty much sums up how rare this gem is.  Spiritueuse was designed by Jean Paul Guerlain himself in 2007 with the intentions of it being a limited edition scent only available at the higher end boutiques in Paris. Double Vanille is an elegant and boozy fragrance reminiscent of dark liquor and tobacco.
This starts out thick and decadent with heavy notes of rum and benzoin, there is a dark boozy undertone that stays throughout the initial stage and into the dry down. The opening is reminiscent of expensive liquor and pipe tobacco, the chocolate stage follows abruptly with a hint of smoke and cedar. Its middle stage is where I fell in love, once the alcohol and smoke have subsided you are left with the scent of sweet luxurious vanilla on a bed of dark chocolate. SDV is beautifully balanced between sweet and smokiness, plus it's probably liable to get you a little buzzed too.
Spiritueuse has amazing endurance and sillage, I would wear this all day and could still smell it lingering on my skin the next morning. The bottle really ought to come with a warning label or at least a seal of potency; its opening is heavy with the scent of booze, enough to sweep me off my feet at times.
Overall a decadent and expensive perfume that is unavailable anywhere but France, there are alternatives such as Eau Des Missions Cologne by Le Couvent des Minimes; although that one is a bit sweet and not as earthy or wholesome. Spiritueuse is worth a try in my opinion, its cult following makes it almost mythical.
---
Longevity: 9/10  Sillage: 9/10
Top Notes
Middle Notes
Base Notes