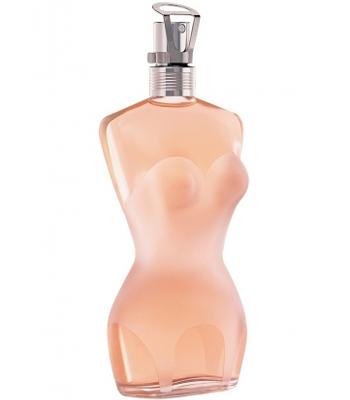 I've been holding off on reviewing Classique because I felt there weren't enough words in the English language to describe my love for this perfume. First off, it smells incredibly vintage yet completely modern, I love how complex and sensual I feel when wearing this and the confidence it exudes is enough to make this a true aphrodisiac on me.
Classique is the most feminine scent I have ever smelled that doesn't veer into the immature or girly territory. I imagine Grace Kelly sitting at night in her boudoir wearing a pink chiffon night gown; her hair is perfectly coifed and makeup is perfection. This is what I imagine her bedroom to smell like—a cloud of soft flowers and makeup powder.
My initial impressions are ginger, star anise, vanilla, orange blossom, and lots of cinnamon. The ginger and cinnamon notes came on strong at first but mellows out beautifully as traces of orchid and iris slowly creeps its way into being, there are roses too but not an extravagant one yet rather subtle and quite shy. Sandalwood frolics lazily under the shade of sweet plum and citrus. Amber notes at its heart wraps everything together like an intimate embrace.
The opening is a spicy oriental but the dry down is creamy vanilla powder, like a cloud of pink lipstick. The sillage is enormous and very noticeable; its longevity lasts for days on the EDT—even when sprayed on clothes!
Classique is undoubtedly my favorite powdery scent; for me this perfume practically defines the difference between a masterpiece product and a decently composed fragrance. There is nothing jarring or sharp or undecidedly vulgar about this scent, it's extremely feminine and sensual without ever being lurid. I've often seen this recommended as a beginner's fragrance but I feel it is extremely polished for all noses, certainly a creation worthy of its reputation.
---
Longevity: 9/10  Sillage:9/10
Top Notes
Middle Notes
Base Notes
---
Edit: I wanted to do a short addendum for the EDP version of Classique, as it is almost certainly different from the EDT and worth noting. The "lace" version is creamier and more vanilla focused, and is indeed concocted with a lighter hand than its predecessor. Opening notes consists of a boozy vanilla, orchids, and rum phases which then passes into a rosy amber-y dry down that is largely florals and sandalwood. This is a dreamier version of Classique; though it more resembles the modest cousin than a direct sibling, the EDP is still very lovely if not bit more mainstream.  Personally I am not a huge fan of the lace version simply because it just isn't the same beauty that I've fallen for, the lacking of spices and ginger has turned her into a common–but noble flower.
Classique eventually fades into a cloud of tonka bean, sandalwood, and boozy vanilla. Nothing extravagant, just powdery and feminine.
Despite constant trials with either one, the EDP is NOT stronger than the EDT in this case. I have had many outings with both relatives applied within the crevices of both arms, and have constantly monitored their progress throughout the day. It seems that the original not only outlasts its rival, but also dominates in terms of projection.
Frankly I enjoy Classique in all its variations, but the primary is certainly my favorite. This EDP is just too basic for me and frankly I can find better vanilla primaries than what it provides; the market is saturated with fragrances composing of the same features that the lace version tries to push. However I would suggest trying both as they often appeal to different senses.
---
Longevity: 8/10  Sillage: 8/10
Top Notes
Middle Notes
Base Notes